On Thursday 14 June, C4X Discovery Ltd won Best Technology Award at the European Mediscience Awards.
The event is the largest annual gathering of private and publicly quoted healthcare, biotech and life sciences companies in Europe. Bringing together the best of European mediscience companies to celebrate achievement and recognise success, it is the must-attend event for anybody working in this sector.
Each year sees the attendance of over 500 quoted and private European life sciences companies and their corporate advisers, analysts, fund managers, commentators and peers.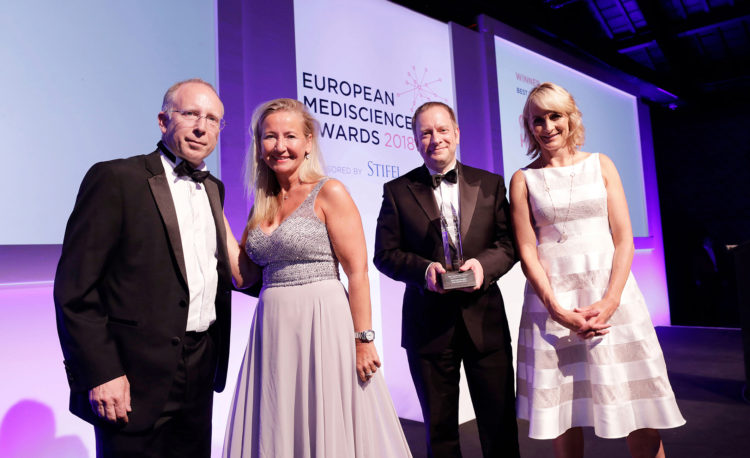 C4X Discovery (C4XD) is a drug discovery and development company that uses cutting-edge software technology to design and develop drug candidates
C4XD was spun out of the University of Manchester in July 2007. It is an innovative company focusing on the discovery, design and development of small molecule drugs. Its proprietary patented software, Conformetrix, allows scientists to view accurately and analyse the dynamic 3D shape of potential drug candidates on the basis of experimental data, and to select the candidates that are most likely to bind to the required target and least likely to bind to alternative targets that typically cause unwanted side effects. Previously it was only possible to identify these in the laboratory, using time consuming and expensive "trial and error" techniques.
The company's second patented software platform, Taxonomy3®, identifies novel genetic linkages by examining data sets on certain diseases allowing new drug targets to be identified. The company has already had success in this area with Rheumatoid Arthritis and Parkinson's disease.
In March, 2018, C4XD signed a licencing agreement with Invidior in respect of its candidate for the treatment of addiction, under which it will receive $10m upfront, up to $284m in milestone payments and royalties.  This provides significant validation of Calculus Capital's original investment thesis.  C4XD will continue to develop its pipeline including candidates in inflammation, neurodegeneration, immuno-oncology, addiction, and diabetes.