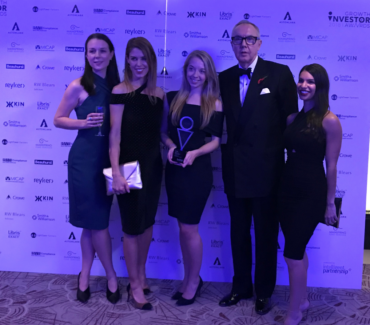 Calculus Capital has come out on top in the intense race for the Best EIS Investment Manager award at the fourth annual Growth Investor Awards, organised by Intelligent Partnership. Calculus was also named Best EIS Investment Manager in the 2016 awards.
Calculus Capital impressed the judging panel with its deep long-term commitment to EIS through both accumulation of funds and great involvement within the industry.
Commenting on the victory, John Glencross, CEO of Calculus Capital said "We are delighted to have been recognised for our commitment to supporting promising growth companies throughout the UK both in winning the Best EIS Manager and being shortlisted for Best VCT Manager at the Growth Investor Awards."
The Best EIS Investment Manager award celebrates providers specialising in Enterprise Investment Scheme solutions for UK SMEs. The judges looked at investment volume, performance, impact on investee companies, quality of adviser outreach and innovation in product development to make their decision.
Guy Tolhurst, managing director of Intelligent Partnership, commented on Calculus' victory:
"Calculus has continued to reinforce a very strong reputation for excellent performance in the EIS sector. This year's award has cemented its position as the leading light of the industry and a very worthy winner of this industry prize."
To win the coveted title, Calculus Capital competed with seven leading investment managers. Calculus were also finalists for Best VCT Investment Manager and Growth Investor of the Year awards.
The award was presented on November 7 at a black-tie gala dinner for over 450 movers and shakers from the UK's vibrant SME investment community.