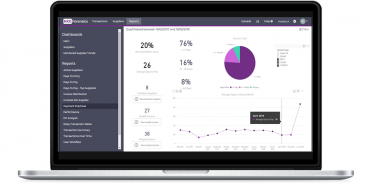 Calculus Capital has joined a £3.6 million funding round to support fast-growing accounts payable forensic software provider FISCAL Technologies.
The money is the first external funding for the award-winning business, whose forensic software helps companies to identify areas of risk and fraud at every stage of the "purchase-to-pay" process.
FISCAL, which is based in Reading, UK and has an office in Raleigh, North Carolina, has processed over 1 billion transactions with a value of over £5 trillion since its launch in 2003.
Its forensic technology incorporates sophisticated algorithms and machine learning to build profiles of its customers' suppliers to help them monitor risk at each stage of the procurement process.
Calculus will invest through its Venture Capital Trust (VCT) alongside Octopus Investments and the Scaleup Group. The investment will be used to help the business grow in its core UK market and build its foothold in the US.
FISCAL co-founder and CEO, David Griffiths, said: "We are at a critical stage of our growth. Calculus and Octopus recognise what we have achieved and how much potential there is in this business. This capital will help us to retain our cutting edge advantage in this valuable market and extend our reach."
Richard Moore, Co-head of Investments and Investment Director for the investment said: "FISCAL is an excellent example of a high-tech firm offering a valuable solution to real-world business problems. We've been impressed with how far the management has taken the business through its own resources and enterprise. It has an attractive proposition and we believe that with this capital FISCAL Technologies is a company with very strong growth potential.