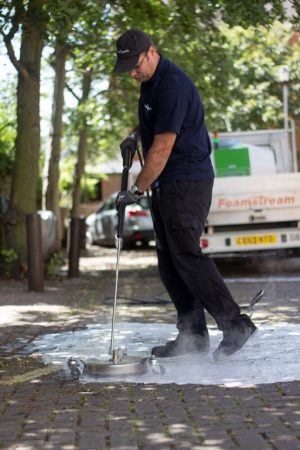 Since the nationwide controversy surrounding glyphosate and other chemical-based herbicides has yet to reach an end, the European company Weedingtech offered an herbicide-free weed treatment option at this year's GIE+EXPO called Foamstream.
"Whatever you think about the safety of glyphosate and herbicides, we don't want to get drawn into that argument," says Leo de Montaignac, CEO of Weedingtech. "But what we all know is that there is a massive, growing demand for herbicide-free alternatives. More and more people are looking for alternatives, and we've got a great bit of technology to help people who want to transition from what they're doing to either less herbicide or no herbicide at all."
Unlike other herbicides, the company says Foamstream stands out because it uses heat as its active ingredient, which means it is safe to use around people, animals, delicate environments and water.
The company says Foamstream works through a patented process that combines hot water and an environmentally friendly foam made from natural plant oils and sugars including wheat, maize, potatoes, rapeseed and coconut oil.
"With the public perception of weed control, people are asking for alternatives," says Thomas Hamilton, commercial director for Weedingtech. "With alternative weed control, there is an association with a lack of efficacy, but that's certainly changed with us."
Hamilton notes that Foamstream is the lowest cost solution in the herbicide-free space because of its high efficacy and its low number of treatment cycles per year.
At GIE, the Foamstream L12 was showcased, and de Montaignac says along with the functionality of previous products, this new device is also equipped to do high- and low-pressure cleaning.
"We wanted to make sure we gave landscapers and municipalities the best possible weed and moss control solution, but also a machine that addressed other municipal jobs that they needed to do," says de Montaigna.
Once the foam is applied to the weeds, Hamilton says it begins sterilizing the seeds that are on the weed, as well as the seeds that are on top of the soil, which leads to a reduction of weed control practices.
The foam acts as a layer of insulation that traps the heat from the hot water and allows it to act more quickly on weeds. De Montaignac says there are no special trainings or certifications required to operate Foamstream; once the applicators know how to use the machine, that's all they need to operate it. They also won't need to wear multiple pieces of personal protective equipment (PPE) or full protective suits for application, according to de Montaignac.
"With our technology, they put on their gloves, they put on their boots, they put on their sunglasses and they go around the park and kill weeds," says de Montaignac. "We've found that it's actually improving the happiness and quality of work for the guys who use the technology to not have to wear such heavy equipment in the summer heat."
The company has been selling in America for about 18 months, according to de Montaignac, but Foamstream has been actively used in Europe since 2011.
"The machinery works with a lance that the operator uses, and the operator just goes right over the weeds that they want to kill," says de Montaignac. "The lance is literally just off the surface of the weed, so it's very close, very accurate and very easy to use."
The biggest Foamstream system will go through 1.85 gallons of water a minute if the operator is holding the trigger down 100 percent, according to Hamilton.
"Because what kills the weeds is the water, you obviously need a certain amount of water to get on them," says Hamilton. "When you see our product operated, it looks like foam, but actually, it's 99.5 percent water. It's just that insulated layer around it."
"The results are instantaneous," says de Montaignac. "The moment you treat a weed, you'll see the weed change color, wilt and start the dying process, unlike with something like glyphosate where you have to wait a couple of weeks to see if it's worked. For an operator, it's easy. You can treat, see it's killed and move on."
To read the full article please click here.