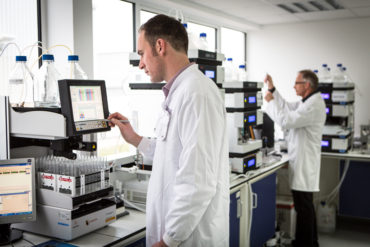 Mologic Ltd, a leading developer of lateral flow and rapid diagnostic technologies, services and products, announced it has completed the development of a next generation ultra-sensitive lateral flow-based technology platform. Initially being exemplified through the development of low cost, high performance devices for malaria and HIV, the novel diagnostics can be visually read and demonstrate up to a 1,000-fold improvement in sensitivity over current technology. The innovations at the core of the platform can be replicated for any protein or small molecule target with associated performance gains and represents a major advancement in the accuracy and application of commercial lateral flow assays for rapid diagnostic tests (RDTs) and supports global efforts to eliminate high burden epidemics.
With funding and support from the Bill & Melinda Gates Foundation, Mologic established the Centre for Advanced Rapid Diagnostics (CARD) platform to deliver unprecedented improvements and innovation in lateral flow technology. The Mologic team has successfully reached an ambitious milestone in Phase 1 of attaining 1pg/ml of sensitivity in a visually-read lateral flow device, taking point-of-care technology to levels of performance only previously attained with expensive laboratory equipment.
Ultra-sensitive rapid diagnostics play an important role in the elimination of epidemics, such as malaria, in order to identify patients who although presenting few symptoms, carry and transmit the infectious organism. CARD's innovation will facilitate surveillance and earlier disease detection, for quicker and more effective intervention. This is a major advancement representing an important application of core lateral flow technology, which was first innovated and commercialised by Professor Paul Davis, Mologic's co-founder and Chief Scientific Officer.
Following this breakthrough, the programme now enters Phase 2 with a new grant of $4.9 million from the Gates Foundation to push the boundaries of sensitivity even further, to broaden its applications to neglected diseases, and to accelerate product delivery. CARD will also help catalyse the formation of a responsive manufacturing and education facility in Senegal, diaTropix, in partnership with the Institut Pasteur de Dakar, to ensure novel products for epidemics and neglected diseases achieve the target pricing and product profile to support successful deployment at the point of need.
During 2019, Mologic will open up the new technology platform to other partners through its services division thus ensuring it reaches applications that would benefit from ultra-sensitivity at the point of care, such as oncology and agriculture.
Dr Joseph Fitchett, Chief Medical Officer & Head of Global Health at Mologic, said: "Significantly improving the sensitivity of rapid diagnostic tests has the potential to revolutionise how we care for patients at the point of need. CARD has delivered high performance, high quality, and low-cost innovations that will bring about a step change. It allows easier and quicker access to more effective treatment, which is fundamental in epidemics and neglected disease eradication programmes. As we enter the second phase of the CARD programme, we are excited to work with Dr Amadou Sall's team at the Institut Pasteur de Dakar, to ensure successful deployment at the point of need and help eliminate epidemics and control neglected diseases."
Professor Paul Davis, Mologic co-founder and Chief Scientific Officer, commented: "We have exceeded expectations in the delivery of CARD innovations with 1pg/ml accuracy, marking a major scientific advancement in lateral flow technology. The parameters for lateral flow products are now redefined and we will continue to advance the technology concept to push its limits and applications even further across the world."
To read the full article please click here.