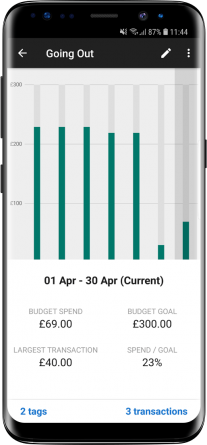 13 January marked the one year anniversary of Open Banking, an initiative introduced to help make managing our financial lives easier. But how much have things changed?
The Competitions and Markets Authority (CMA) forced the nine largest banks (Allied Irish Bank, Bank of Ireland, Barclays, Danske, HSBC, Lloyds Banking Group, Nationwide, RBS Group, Santander) to open up their data by 13th January 2018.
This was so that approved third parties, such as budgeting and savings apps, could access this data, in a secure and standardised way, to help you manage your finances better.
Despite having to grant an extension to six of the nine big banks, the Open Banking rollout was completed by 17 April 2018.
Here, take a look at how far Open Banking has come and round up the best budgeting apps that could help you save money.
Five budgeting apps to try in 2019
If you want help taking control of your finances in 2019, the following apps let you view all of your income, outgoings and spending habits in one place to identify the best ways to save.
The apps mentioned are registered with the FCA. Most are already on the Open Banking directory and others plan to join in the future.
We've highlighted the unique selling point (USP), fee charges and operating systems (OS) of each one, to help you see if they're right for you.
Money Dashboard
USP: See all of your accounts in one place
Fee: Free
OS: Android, iOS, Web
Edinburgh-based app, Money Dashboard, lets you view all of your accounts and assets in one place. This includes current accounts, savings accounts and credit cards. It allows you to analyse your income and outgoings to see where your money is being spent and understand how much progress you've made towards your goals. Each month, you can use the budget planner feature to set your limits, based on your previous months' spending. The platform currently supports 60 financial providers including major high-street banks like Lloyds, HSBC, Halifax and Santander. Money Dashboard is free to use and available for download on Android, iOS and desktop.
To read the full article and see the other apps featured on Which? please click here.
The Financial Times also covered Open Banking in the FT Weekend Money section and featured Money Dashboard. To read the full article please click here.