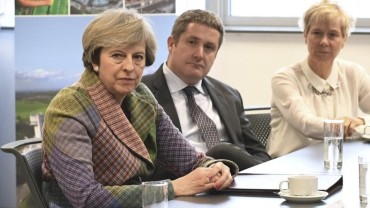 Calculus Capital has welcomed the government's pledge to boost Britain's expanding life sciences and technology industries after the Prime Minister met the Chief Scientist behind one of its investee companies during a landmark visit to the North West.
Theresa May used the visit to the Northern Powerhouse, where she held her first Cabinet meeting outside London, to unveil her new post-Brexit industrial strategy.
Overhauling technical education and boosting investment in up-and-coming life sciences and digital technology companies are central to the strategy.
During a visit to the Innovation Centre Sci-tech Daresbury, Mrs May met with Dr Jan Rogers, Chief Scientific Officer of Arcis Biotechnology (Arcis), whose innovative technology has transformed the speed and ease with which forensic experts and medics extract and prepare DNA for analysis.
Speaking after the meeting, Rogers said: "It was encouraging to have the Prime Minister and her Cabinet on our doorstep, not just recognising the contribution that life sciences and other technology sectors are contributing to the British economy but addressing ways to help these sectors grow. There was particular discussion surrounding later stage funding, where businesses need support and financing to commercialise and be accepted into the main stream."
The Prime Minister's visit came just a few days before the firm announced its success in winning £160,000 from Innovate UK's Biocatalyst programme to fund a new research programme into extracting and stabilising ribonucleic acid (RNA) direct from urine to help clinical diagnostic testing.