Surrey-based Ashford and St Peter's Hospitals NHS Foundation Trust, one of the UK's foremost Trusts, is piloting a demand-led rostering solution with Rotageek and Locum's Nest, who create software connecting healthcare professionals to flexible work. Together they will test the NHS' first-of-its-kind demand-led rostering.
The solution links scheduling and locums in an integrated network that ensures the right staffing levels are available to meet patient demand, and that the right roles make the rota, ultimately improving patient care.
Ashford and St Peter's (ASPH) will take advantage of Rotageek's next-generation digital rostering capabilities to schedule consultants, junior doctors, AHPS and nurses across the Trust in a fully optimised way. The ability to forecast changes in demand will provide the right professional-patient fit while ensuring compliance with hours-of-work regulations.
"For us, providing for our patients is our number one priority," states Debbie Beck, Project Manager at Ashford and St Peter's. "But, alongside this, we wanted to give our team at ASPH better access to manage their rota, reduce the effort in maintaining these rotas and joined up systems for managing staffing including those sourced via bank and agency. This truly interoperable solution ticked all those boxes, helping us to make the most efficient use of our resources."
The first phase of the pilot was rolled out in early October, including junior doctors in Anaesthetics and the wider staff contingent in Trauma and Orthopaedics. "We're excited to see the tangible benefits of the Rotageek-Locum's Nest live integration," comments Dr Chris McCullough, CEO and Co-founder of Rotageek. "As a former NHS A&E doctor, I know the critical importance of seamless schedulingto the NHS, and to the lives of both patients and healthcare professionals."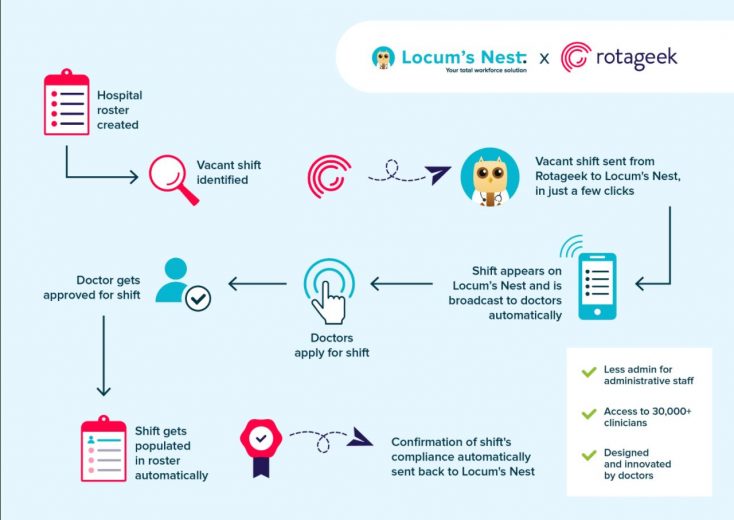 To read the full article please click here.