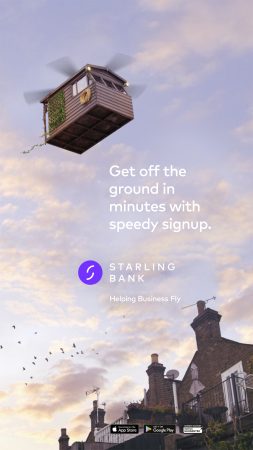 Starling is one of the UK's leading digital banks and the campaign marks the first piece of work from the brand's new agency line-up of Wonderhood Studios and media agency Bountiful Cow.
In 2018 Starling became the first mobile bank to launch business accounts, with no monthly fees and an in-app marketplace, allowing business owners to connect with other smart and flexible products. The new campaign is designed to build the brand's small and medium-sized enterprise customer base; while the work which spans TV, radio and outdoor, also reinforces Starling's leading proposition as a national UK bank.
Aidan McClure, CCO Wonderhood Studios said: "For anyone who's started their own business they'll recognise that feeling of plummeting towards certain ruin before turning on a dime and soaring through the clouds.  This campaign has been lovingly crafted for those heroes."
The creative concept was brought to life with both live action as well as through miniatures and practical effects to give it a hand-crafted authentic feel. The Hollywood score, re-recorded with a full orchestra, gives the ad a family movie feel and sets the tone of optimism and bravery.
[youtube id="CR5uCR6WK1U"]
Behind the scenes